'Black Adam' releases in theaters Oct. 21, dominates box office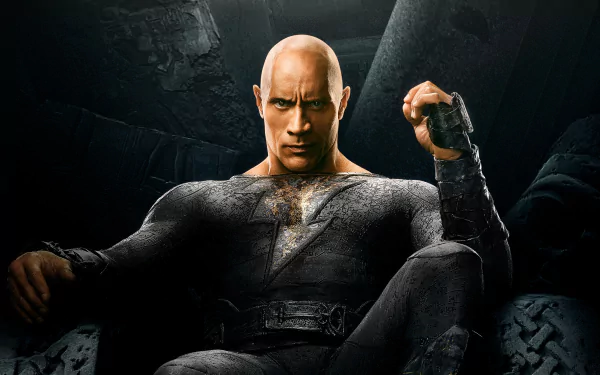 "Black Adam" was released in theaters on Oct. 21. "Black Adam" is a new movie added to the DC Universe movies. It was first created as a comic book by Otto Binder and C.C. Beck in December 1945. Black Adam is one of the most powerful anti-heroes in the DC Universe.
"Black Adam" stars Dwayne Johnson as Black Adam, Sarah Shahi as Isis, Aldis Hodge as Hawkman, Pierce Brosnan as Doctor Fate, Noah Centineo as Atom Smasher, and Quintessa Swindell as Cyclone.
According to Stephen Barker of ScreenRant, Johnson reveals that he was announced to play Black Adam eight years ago in 2014. He was also supposed to have a role as a villain in a Shazam movie that was in development since 2000, but Johnson landed the role in 2007. The movie was never produced, and Johnson lost that role. Johnson also reveals that he has been attached to this role for 15 years and has been determined to see this role through.
Throughout the movie, there are lots of fight scenes, conflict between characters and drama. The main conflict between characters is Black Adam and Hawkeye, played by Johnson's co-star Aldis Hodge.
Some of the hit film's actors even did their own stunts, like Aldis Hodge and Sarah Shahi. Men's Journal spoke with Hodge about his stunt training and the physique he wanted to have when playing this role.
"'Black Adam' filmed in Atlanta, and I got there early to start training with the stunt team," Hodge said. "I was working with my stunt double David Charles Warren on movement and this guy is just insane. I like to do a lot of my own fighting, and I'm good at it, but this brother has insane ability in the air."
Hodge later went on to say that while working with Chris Brewster, who is the stunt and fight coordinator, that he wanted to combine his background of different martial arts to create a style that Hawkman would use in the movie. Co-star Sarah Shahi did all of her own stunts. In an interview with Palm Springs Life, she explains how roles in big movies with well-known actors aren't easily obtained for Iranian-American actresses like herself.
"Those kinds of roles, especially for Middle Eastern actresses, don't come around often, so it's a privilege to not only be this incredibly strong woman on screen but also be able to represent the Middle Eastern community," Shahi said. "A lot of times we're hired for roles that are The Terrorist, or if you're a woman, The Terrorist's Wife or the Finger-Shaking Girlfriend, and your story solely relies on the man."
Shahi worked for nearly seven months to train and make sure she was physically and mentally able to do her stunts. She expressed she had some fears while she did her own stunts. "Black Adam" was the first movie she starred in that was a CGI-heavy project, and green screens are basically non-existent. Shahi also mentioned that she would be suspended in the air for hours, which was very hard for her to be hung up by wires for hours on end until they got the right shot.
"I thought I was going to die when I had to do this one stunt up there," she said. "I was actually in my trailer crying, but I did it–and nailed it. Now, I'm going to be so proud when the movie comes out, and I can sit there and say, 'I did all of my own stunts. I did everything myself.'"
After the premiere of the movie, critics and the audience had different opinions on the movie. Most critics agreed that the movie is a good kickstarter for the future of DC films, but think that the movie was a major letdown. Richard Brody, a top critic for The New Yorker, had a few words to say about the movie.
"There's something morally deadening and aesthetically depressing about the bottomless toy chest of C.G.I. being reduced to the toolbox of cinematic bureaucracy," Brody said. "What 'Black Adam' lacks is the sense of a point of view; even the Russo brothers' armchair-army bluster in Marvel epics suggests a greater sense of personality, of personal commitment and aesthetic attitude, than the synthetic enormity of 'Black Adam.'"
Overall, "Black Adam" has been a major success with viewers. Rotten Tomatoes audience score is sitting at 89 percent, and the movie was still dominating in ticket sales over Halloween weekend.