Cardinal Update
Congratulations to the 2023 Homecoming Court! The queen nominees include Emily Johnson, Hailey Johnson, Josephine Miller, Rylie Reddick and Avery Reyes. The king nominees are D'Kedrion Abrams, Bronze Higginbotham, Kash Leavall, Hudson Ross and Kolby Schulz. The high school student body will vote on Oct. 19, and coronation will take place at the varsity football game on Oct. 20.
Tickets to the Homecoming Dance will be on sale Oct. 16-20. Students may purchase tickets in the Student Union during Mega Lunch. The price is $30 each (cash, check or card). The dance will take place Saturday, Oct. 21, from 7-10 p.m. in the Student Union and Symmetry Plaza.
Homecoming 2023: Details of this year's Homecoming Week, including dress-up day themes, tailgating, parade and pep rally, have been published on the district website. Visit www.melissaisd.org/homecoming for all the info.
MELISSA MADNESS: Cardinal Basketball will kickoff the 2023-24 season on Wednesday, Oct. 25 at 6:45 p.m. in the gym. Varsity players will be introduced and fans will have the opportunity to meet-and-greet them. There will also be a live DJ, games and prizes, a cheer performance and a scrimmage by both teams. Admission is FREE!
Seniors can now place an order for their 2024 Cap & Gown and other graduation supplies through GradTexas.com. Click HERE to register an account and order before the December 1st deadline!
SENIOR ADS: Yearbook tributes for graduating seniors are on sale now through Feb. 1, 2024. Build and purchase an ad online at YearbookOrderCenter.com.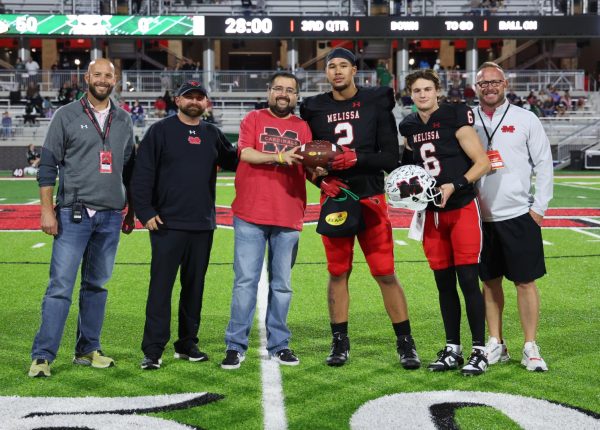 Upcoming Events
Oct. 14 – Region 25 UIL Marching Contest – Tom Kimbrough Stadium, Murphy
Oct. 14 – Speech & Debate – Fall Cardinal Classic
Oct. 16-20 – Homecoming Dress Up Days
Oct. 16 – JV Boys Golf @ Watters Creek GC – 8 a.m.
Oct. 17 – Freshman, JV & Varsity Volleyball vs Denison – 5 & 6 p.m. – Senior Night
Oct. 18 – Fall Soccer @ Plano East HS – 5:15 p.m.
Oct. 18 – Homecoming Celebration – Tailgating 5-6:30 p.m. – Parade 6:30 p.m. – Pep Rally following
Oct. 19 – JV Football @ Greenville – 5:30 p.m.
Oct. 19 – Freshman Football vs Greenville – Black Team – 5:30 p.m.
Oct. 19 – Freshman Football vs Caddo Mills – Red Team – 7 p.m.
Oct. 20 – Varsity, JV & Freshman Volleyball @ Princeton – 5 & 6:30 p.m.
Oct. 20 – Varsity Football vs Greenville (Homecoming) – 7:30 p.m.
Oct. 21 – Homecoming Dance – Student Union & Plaza – 7-10 p.m.
Oct. 24 – Choir Concert – MAC – 7 p.m.
Oct. 25 – Melissa Madness – MHS Gym – 6:45 p.m.
Oct. 26 – Senior SAT Day
Oct. 27 – End of 1st 9 weeks
Oct. 30 – Staff Development Day (no school for students)
Nov. 1 – Picture Retake Day
Nov. 2 – Toys for Tots collection event – Coach Kenny Deel Stadium – 7:30 p.m.
Nov. 8 – Senior Portraits on campus – must schedule an appointment through cady.com

Quick Links