Cardinal Update
Congratulations to Mrs. Fox's 4th-period class for collecting the most items for the Red Bag Campaign food drive. They collected a total of 904 cans and will receive a Chick-fil-A catered lunch courtesy of the Interact Club. Overall, the high school campus collected over 1,400 items, and the district collected over 15,000 total.
Congratulations to the high school students and staff members who recently received Cardinal Commendations at the November school board meeting. Senior Logan Tauch, sophomore Hikmah Abdul-Hammed and junior Miracle Granderson were the students that received recognition. Jon Wheeler, Amy Klein and Jeffrey Fox were the faculty members.
COUNSELING UPDATE: Effective Nov. 27th, there will be a change in the alpha breakdown for the MHS counseling team. Click here to read the letter sent out by Principal Eckert with more info.
YEARBOOKS are still on sale! The price is $65 now through Nov. 30. Purchase a book online at yearbookordercenter.com.
MELISSA FC STORE: Melissa Soccer has an online store open through Dec. 1 for anyone wanting to purchase some spirit wear. Click here to shop online.
SENIOR SCHOLARSHIPS: The Melissa Education Foundation (MEF) scholarship application opens on Dec. 1. Seniors interested in applying should visit the MEF website for more information.
Seniors can now place an order for their 2024 Cap & Gown and other graduation supplies through GradTexas.com. Click HERE to register an account and order before the December 1st deadline.
SEMESTER EXAMS: Exams for the 1st semester for year-long classes will be administered Dec. 7-14. Exams for semester-long courses will be given in January. Click here for the schedule.
MELISSA THEATRE will present "Schoolhouse Rock Live! Jr." on Dec. 8 at 7 p.m. and Dec. 9 at 5 p.m. Click here to purchase tickets.
SENIOR ADS: Yearbook tributes for graduating seniors are on sale now through Feb. 1, 2024. Build and purchase an ad online at YearbookOrderCenter.com.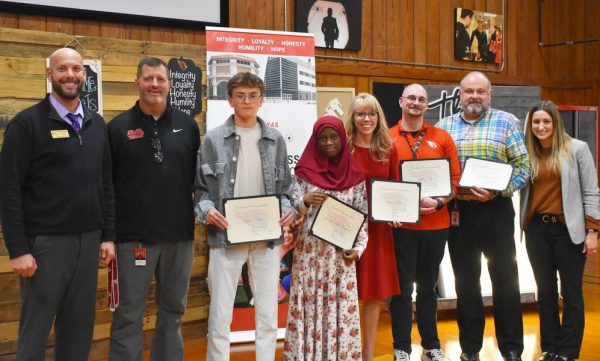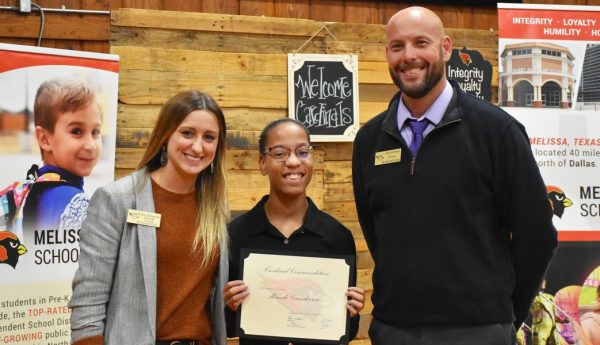 Upcoming Events
Nov. 28 – JV2, JV1 & Varsity Girls Basketball @ Pottsboro – 4:30, 5:30 & 6:45 p.m.
Nov. 30 – Dec. 2 – Freshman, JV & Varsity Boys Basketball @ HWY 5 Tournament
Nov. 30 – Dec. 2 – JV1, JV2 & Varsity Girls Basketball @ HWY 5 Tournament
Nov. 30-Dec. 2 – BEST Robotics UIL State Championships – Dallas
Dec. 1-2 – Debate @ UT TFA
Dec. 1 – Boys Wrestling @ Rumble at the Rock – 3:30 p.m.
Dec. 1 – Girls Wrestling @ Coppell – 3 p.m.
Dec. 2 – Boys Wrestling @ Rumble at the Rock – 9 a.m.
Dec. 2 – JV & Freshman Cheer Competition – Crandall Invitational
Dec. 4 – IB Introductory Meeting @ Melissa ISD Home Office – 6 – 7:30 p.m.
Dec. 5 – Heart for the Arts Festival – 5:30-7 p.m.
Dec. 6 – STAAR EOC Eng I & US History Retests
Dec. 7 – STAAR EOC Biology & Eng II Retests
Dec. 7-8 – Fall Semester Exams – CTE, Fine Arts & World Languages
Dec. 8 – "Schoolhouse Rock Live! Jr." – 7 p.m.
Dec. 9 & 11 – All-Region Band Phase 1 & 2 Auditions @ Wylie High School
Dec. 9 – "Schoolhouse Rock Live! Jr." – 5 p.m.
Dec. 11-12 – Fall Semester Exams – English & Science
Dec. 13-14 – Fall Semester Exams – Math & Social Studies
Dec. 14 – Band & Choir Holiday Concert – 7 p.m.
Dec. 15 – Early Release – 12:10 – Bell Schedule
Quick Links