Universal Studios plans to build new theme park in Frisco
In North Texas, Frisco Mayor Jeff Cheney announced Wednesday morning on Jan. 11, that Universal Parks & Resorts is planning to build a theme park and hotel geared toward families with young children on the north side of town. Specific details about the park were not disclosed, but officials did say it would have traditional offerings like rides, shows and food while also including meet and greets with characters from Universal films and shows like "Minions" or "Shrek."
An artist's rendering was released that shows the grand entrance that opens up to the lagoon. From there, guests will be able to go a number of ways to visit different themed areas of the park.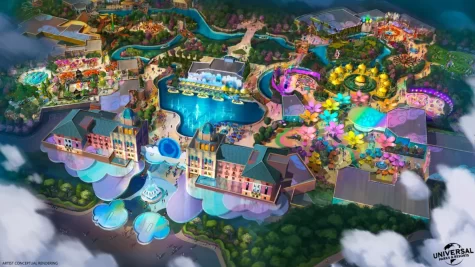 According to Universal Parks & Resorts Chairman and CEO Mark Woodbury, this park will be unlike any other Universal park in the world, and they are "wildly excited" to bring the park to North Texas.
"We literally looked at virtually every place you could imagine and North Texas rose right to the top and Frisco rose right to the top of North Texas," Woodburys said. "So it became pretty evident that this is a great place and that's a great market in itself and everything we want, a vibrant community, a growing community, lots of young families and very centrally located."
He said this new abstraction would fit perfectly in Frisco.
"We're known for creating one-of-a-kind innovative, interactive experiences for the whole family," Woodbury said.
The footprint is about one-quarter the size of the parks in Orlando, scaled smaller to be more "intimate and engaging" for the younger guests. The organization said the theme park will have a whole new look and feel and scale compared to Universal's existing parks but will still carry the same quality as the larger resort destinations.
"The idea is to create a place in a region like this that people can come to time and time again, in between their visits to our big vacation destinations like Los Angeles or Orlando," Woodbury said.
The park presumes to be a one-day or two-day experience and they plan to build a 300-room themed resort hotel on the property. Page Thompson, president of new ventures for Universal Parks & Resorts, said the company bought 97 acres on the east side of the Dallas North Tollway, north of Panther Creek Parkway for the construction of both the park and themed hotel.
"Everything about this park is approximately sized for young children, so for example, the ride won't have height limitations on what kids can ride on," Thompson said. "All the characters will be beloved Universal characters that are really popular with families and children. We're really looking for all sorts of interactive experiences that kids can have, and they will be able to immerse themselves in the lands featuring their favorite characters from our extensive Universal library of kids content. Also, there will be learning activities, games and fun for children to have at the park. It's going to be fantastic."
The theme park will be built near the 2,500-acre Fields development, which incorporates plans for roughly 10,000 homes, the headquarters for the PGA, a golf course and a $500 million Omni resort hotel. Cheney said the economic impact the new theme park will have is huge.
Officials did not say what the park will be named or say when they plan to open it, but it will take years to complete.