Cardinal Update
Congratulations to the varsity boys cross country team for finishing in 2nd place at the 5A District 13 meet on Oct. 10 and qualifying for regionals. Senior Logan Tauch was the district champion!
Congratulations to the Mighty Cardinal Band for earning all ones at the UIL Region 25 Marching Contest on Oct. 14. They will now advance to Area, which will be held on Oct. 28 at CKD Stadium.
K-12 PARENTS: Melissa Schools will host a meeting on Oct. 23 at 6 p.m. at Home Office to educate parents on the implementation of the International Baccalaureate (IB) program. Click here for more information.
Melissa Choir will host their first concert of the school year on Oct. 24 at 7 p.m. in the auditorium of the Melissa Arts Center. Admission is FREE!
MELISSA MADNESS: Cardinal Basketball will kickoff the 2023-24 season on Oct. 25 at 6:45 p.m. in the gym. Varsity players will be introduced and fans will have the opportunity to meet-and-greet them. There will also be a live DJ, games and prizes, a cheer performance and a scrimmage by both teams. Admission is FREE!
STAFF DEVELOPMENT DAY: There will be no school for students on Oct. 30 as this will be a professional development day for staff.
TRUNK OR TREAT: FCA will host Trunk or Treat on Oct. 30 in the band parking lot from 5-7 p.m. Clubs/organizations interested in participating should fill out this Google Form.
PICTURE RETAKES: The school photographer will return to campus on Nov. 1. Any students that were absent or not yet enrolled on the original picture day in September should be photographed on Nov. 1. If a student that was previously photographed needs a retake for some reason, then please complete this request form.
MELISSA THEATRE: Tickets are now on sale for "Treasure Island." There will be three performances Nov. 9-11 starting at 7 p.m. each night. Click here to purchase tickets.
Seniors can now place an order for their 2024 Cap & Gown and other graduation supplies through GradTexas.com. Click HERE to register an account and order before the December 1st deadline!
SENIOR ADS: Yearbook tributes for graduating seniors are on sale now through Feb. 1, 2024. Build and purchase an ad online at YearbookOrderCenter.com.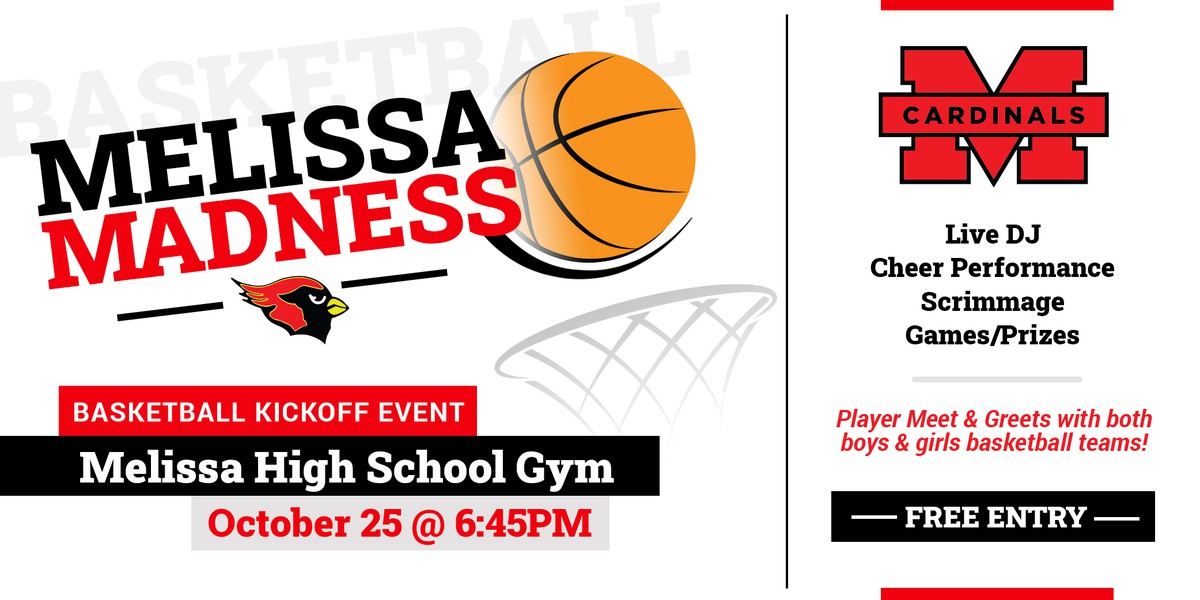 Upcoming Events
Oct. 23 – Regional Cross Country Meet
Oct. 23 – IB Introductory Meeting – Home Office – 6 p.m.
Oct. 24 – Varsity Girls Golf @ Oak Hollow Golf Course – 8:30 a.m.
Oct. 24 – Freshman, JV & Varsity Volleyball vs McKinney North – 5 & 6:00 p.m. – Dig Pink Night
Oct. 24 – Choir Concert – MAC – 7 p.m.
Oct. 25 – Fall Soccer vs Plano East – CKD Stadium – 5:15 p.m.
Oct. 25 – Melissa Madness – MHS Gym – 6:45 p.m.
Oct. 26 – Senior SAT Day
Oct. 26 – Freshman Football @ Princeton – Black Team 5 p.m., Red Team 7 p.m.
Oct. 26 – JV Football vs Princeton – 5:30 p.m.
Oct. 27 – End of 1st 9 weeks
Oct 27-28 – Debate @ UNT TFA
Oct. 27 – Varsity Football @ Princeton – 7:30 p.m.
Oct. 28 – Area UIL Marching Contest – Coach Kenny Deel Stadium
Oct. 28 – Girls Basketball @ Muenster/Prosper Tournament
Oct. 30 – Staff Development Day (no school for students)
Oct. 30 – Trunk or Treat – MHS band parking lot – 5-7 p.m.
Nov. 1 – Picture Retake Day
Nov. 1 – Dual Credit/CTE Parent Meeting – Student Union – 5:30 p.m.
Nov. 2 – Toys for Tots collection event – Coach Kenny Deel Stadium – 7:30 p.m.
Nov. 8 – Senior Portraits on campus – must schedule an appointment through cady.com
Nov. 9-11 – "Treasure Island" performances – MAC – 7 p.m. – click to purchase tickets
Quick Links